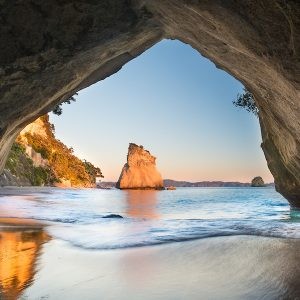 Accessible only on foot, boat or kayak, famous Cathedral Cove is one of the "must visit" sites on The Coromandel. From beautiful Hahei Beach you can walk to Cathedral Cove, where a naturally formed archway deserves photographic attention.
There are several scenic tracks on land adjacent to the reserve, including the 2hr return walk to Cathedral Cove track, which gives access to Gemstone Bay, Mares Leg and Cathedral Cove.
From the north end of the beach, a one hour walking track leads along the cliff top and then descends to the Cove. Here a gigantic arched cavern passes through a white rock headland to join two secluded coves. The cathedral-like arch gives the whole area an air of grandeur. The beach is sandy with shady Pohutukawa trees along the foreshore – a perfect place for a picnic and a swim.