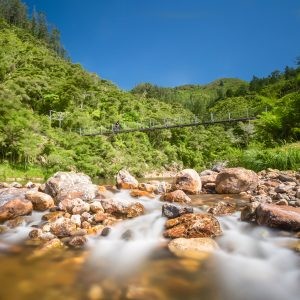 Head south of Whangamata towards Waihi and you'll reach another 'Must-Do' in the area, located on State Highway 2 between Waihi and Paeroa.
Many Kiwi's will have driven through the breathtaking Karangahake Gorge but few will have ventured into the walkways, old tunnels, discovered the rich history hidden in the gorge and cycle the Hauraki Rail Trail. Not only is this one of the most stunning stretches of river in the country it was home to one of the busiest and most lucrative goldstrikes in the country.
Visitors to Karangahake will enjoy the thrilling gorge views and will be guaranteed a memorable experience exploring the atmospheric disused gold mining tunnels. Karangahake offers a window on New Zealand's social and cultural identity, through the voices and stories of the people of Karangahake's past and present. Take a look through the unique mining windows at Karangahake and establish a connection with the magnificent mountain above and the rippling waters of the Ohinemuri and Waitawheta rivers below. Massive geological upheaval has resulted in the landscape you see today, which was changed again upon the arrival of humans. This place has been transformed by the development of mining technology and the industrialisation of the country in the late 19th and early 20th centuries.